16 May – 29 May 2022
How to make your money work smarter
What myths have you been told about money?
We're breaking some of them down and explaining why they're wildly untrue.
Disclaimer
These videos are provided by the Financial Services Council of New Zealand Incorporated (FSC) and are general information only.
The views and opinions expressed are those of the speakers and do not necessarily reflect those of the FSC. They are not intended to constitute legal or financial advice and do not take your individual circumstances and financial situation into account. We encourage you to seek assistance from a trusted financial adviser, legal or other professional advice.
The names of any third parties are additional resources that you access at your own risk and the FSC takes no responsibility for any third party content.
The FSC and its employees make no express or implied representations or give any warranties regarding these videos, and we accept no responsibility for any loss, damage, cost or expense (whether direct or indirect) incurred by you as a result of any error, omission or misrepresentation in these videos.
17 May 2022
17 May 2022
Helping Kiwis talk about money
AUT Business School's Dr. Ayesha Scott (Department of Finance) has been awarded an AUT Health Futures development grant to support her research project, "My money, your money…our money? Building a toolkit for Healthy Financial Relationships".
The work is in partnership with Good Shepherd NZ, a charitable non-government organisation established to address the critical, contemporary issues facing women, girls and families. Learn more about this research at this webinar supported by Women in Super.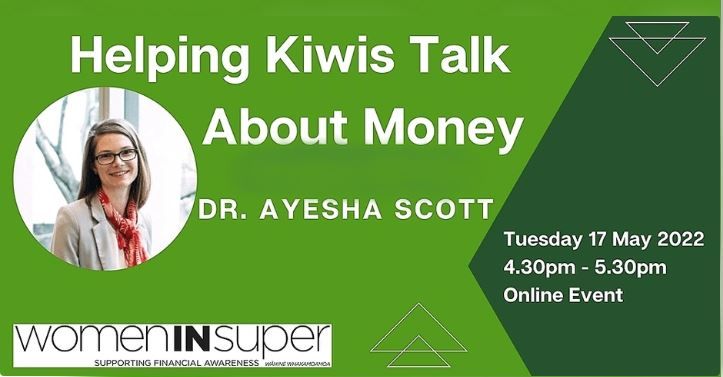 Thanks to our Founding Champions