Held at the Heritage Hotel, Queenstown, on Tuesday 14 June 2022
Future Ready Advice Summit 2022 Wrap
Following the successful online event in February this year, it was great to see so many of you in-person at the Future Ready Advice Summit in Queenstown on 14 June 2022, as well as those that joined online. We hope that you enjoyed the summit, and for those that missed it or for attendees to refresh memories, below is a summary of the day. Please keep an eye on this page for the recordings of the sessions, which will be released soon.
344
ATTENDEES
across the February and June summits
3.9/5
SESSIONS OVERALL
Session 1: 4.2/5 Session 2: 3.6/5
Session 3: 3.8/5 Session 4: 4.2/5
Session 5: 3.9/5 Session 6: 3.5/5
4.3/5
VENUE
The Icon Room at the Heritage Hotel was excellent, and Queenstown is a great location
Session 1: The future of financial services
Led by MC Trisha Edmonds, it was great to hear insights from the New Zealand and Australian front line, and about adviser resilience:

• Clayton Copleston from Heathcote Investments talked about the need for a point of differentiation by advisers. This is because we should expect a direct to consumer model, for example by global manufacturers and organisations entering the NZ market that will challenge and disrupt our status quo. Financial advisers see challenges in managing their businesses, time taken not advising and making sure they are spending their time at what they are best at, advising.

• Talking through recent AIA research, Sam Tremethick highlighted the positive outcomes to New Zealanders through adviser work, however advisers have felt the stress and strain of the past years. This includes covid-19, regulation change and a lack of support both in the industry and for help with administrative tasks. He thanked the FSC for events like Future Ready and suggested that advisers look towards mentorship and take more recovery time away from work through meditation or exercise.

• And from the Australian perspective, Tony Stephens highlighted that a recent survey undertaken by Business Health highlighted trust, client feedback and reviews are key to successful financial advice. There is no doubt that advisers add value, the issue is that it can be difficult for advisers to articulate how they add value. Things are going to continue to change and if we all don't change with it, we won't succeed.

Following the ted-style talks, the panel discussed the challenge of managing staff, finding staff and making the most out of teams. The group concluded with their views on the future of advice.
These types of events are really key especially to those smaller teams where there's not a great opportunity to engage with others in the industry.
Short, sharp, interesting, interactive. Future of advice, regulator updates, industry topics.
Session 2: Impacts and Opportunities with NZ Income Insurance Scheme (NZIIS)
Following an overview by FSC CEO Richard Klipin highlighting concerns about the policy development process, lack of sector engagement, scope creep and timing of the consultation process, BusinessNZ's Catherine Beard joined Richard to discuss the scheme.

Catherine outlined the background of the NZIIS, and an insight into some of the Government's reasoning behind it. This included the idea that some Kiwis that are made redundant can feel pressured and take a job which they maybe over-qualified for, which might impact productivity. The Future of Work is another stream being discussed, including a low-carbon future and how that might effect working patterns.

Despite the industry supporting the principles of the scheme, the concerns of the FSC, including timing, scope creep and tax implications are also being considered by BusinessNZ, and the key now is to continue conversations between government and industry to improve on the proposals for the scheme.
Enjoyed Catherine Beard's candidness and honesty. The toolkit offered by Faraday is great.
Session 3: It Starts With Action, Protecting What Matters
This interactive session showcased the FSC's industrywide campaign supporting the Te Ara Ahunga Ora Retirement Commission's National Strategy that aims to make impactful change in growing women's financial confidence and wellbeing.

After highlighting one of five myths that 'talking about money is arrogant', MC Trisha invited the audience to start the conversation using the Money Talks Conversation Cards created for the campaign.

It's not too late to sign up and support the campaign. There are plenty of resources to help you spread the word about financial confidence and wellbeing.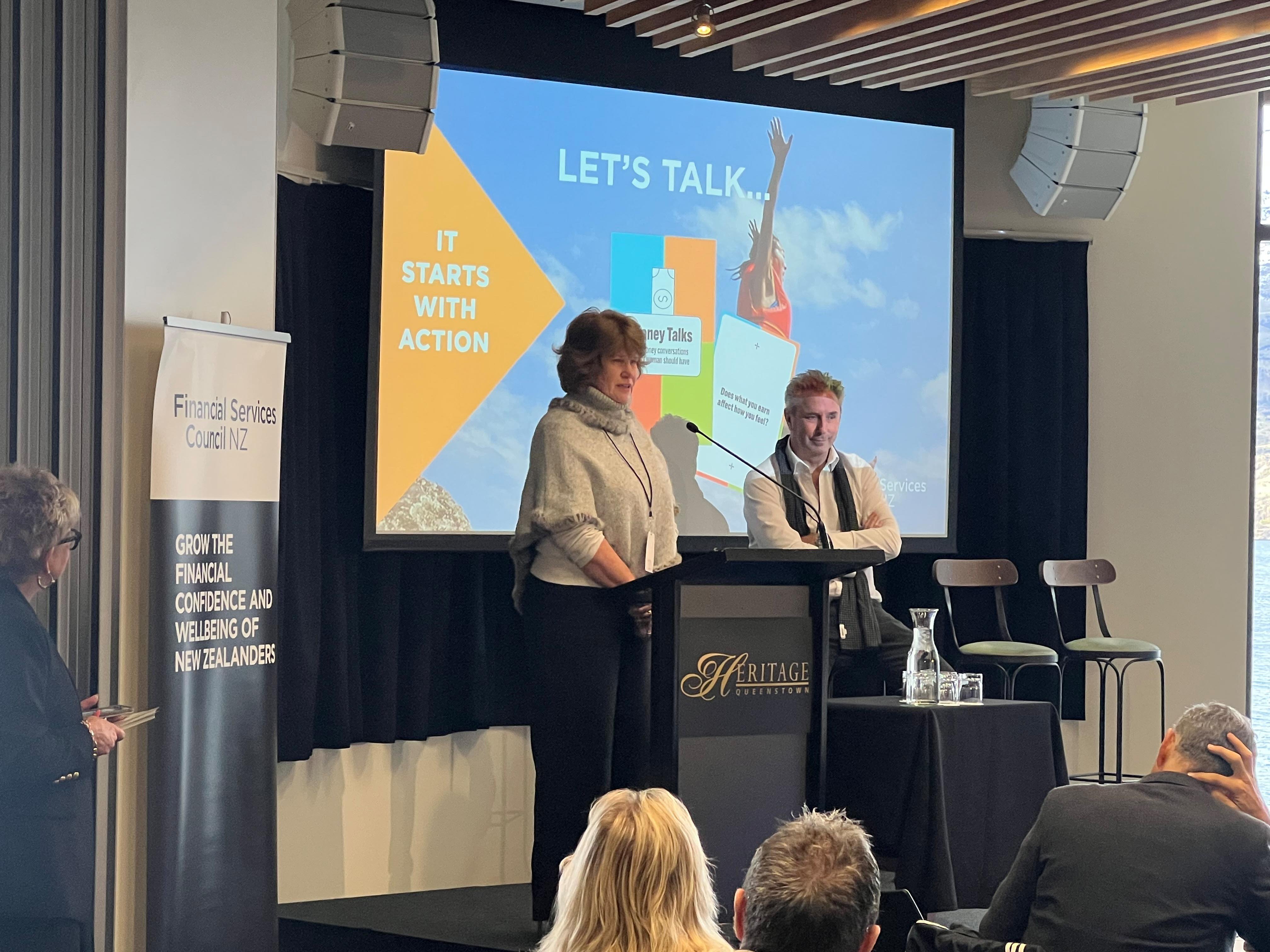 Session 4: Meet the Professionals
In-person, the attendees got to choose two fast paced breakout sessions from a range of topics to help with developing their business from session experts.

These included Boards, governance and codes, the Anatomy of the deal, Building business health, Developing a digital presence, Brand building and Client and customer wellbeing.

Online, we were pleased to be able to share a specially recorded fireside chat with MC Trisha Edmonds and Tony Stephens from Business Health.

Thank you to our professionals:
• Henry Lynch, Faraday & Company
• Russell Hutchinson, Chatswood Consulting
• Tony Stephens, Business Health Australia
• Jason McKay Williams and James Perry, Shotover Media
• Kayleigh Woodings, Blue Mercury Leadership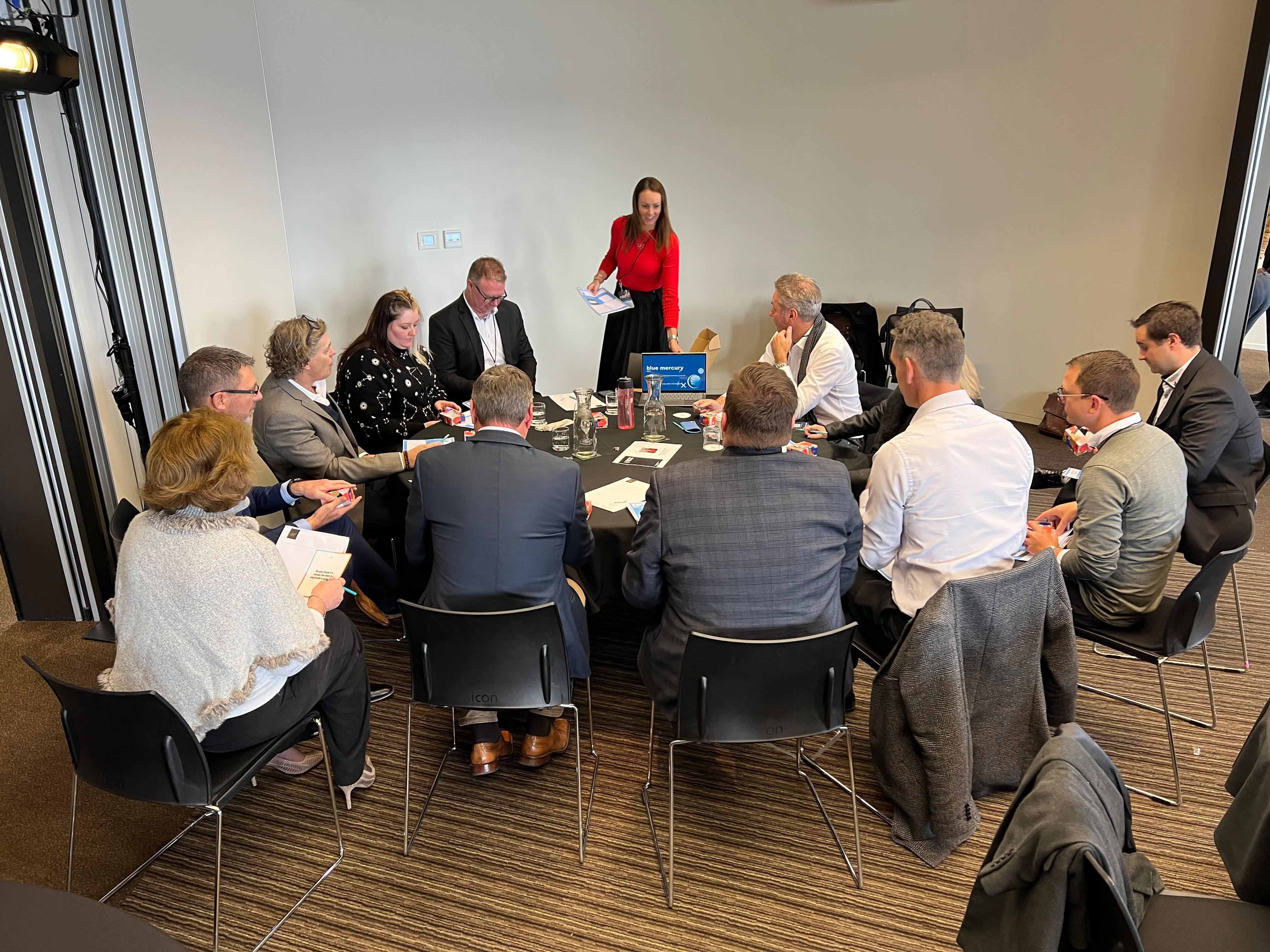 The sessions where we were able to Meet the Professionals was very engaging, more of this would have been useful as it also allowed for exposure to other attendees at the same time and drew others away from their groups.
Session 5: In conversation with the Regulator
We were pleased to be able to welcome John Botica, Michael Hewes and Derek Grantham from the Financial Markets Authority with their latest update.

Trisha welcomed the panel and Derek introduced the FMA team and asked John about the future of advice. John reiterated that working together is important across the sector. Key is the hard stop for getting a license [15 March 2023], after which point, those without licensing won't be able to provide financial advice.

John continued to talk about developing and building strategy, succession plans and how some advisers have shared how they planned out their license application by setting time aside and finding help and support to help them.

Michael talked through the policy and procedures that financial advisers put in place as part of licensing. The FMA will look to meet with a number of licensed advisers to monitor how policies and procedures are implemented and ask those selected to talk through and articulate them as part of the session.

Lastly, the panel discussed customer care and gave some examples of good customer outcomes and areas such as personalised articles and news from providers that work well in terms of providing interesting and relevant information. Michael highlighted some of the great work undertaken in the industry and those that are fully licensed are really seeing the benefits.
Read the FMA highlights.
I like that there was no beating around the bush. Change is coming, it won't be pretty but what do we need to do about it. The day was great and it's always great networking at these events.
Session 6: Masterclass 2022: Future Proofing your Business - Business Strategy, Governance, Pricing and CVPs (Client Value Propositions)
In the last session of the day, Mark Banicevich introduced the 2022 Why Does Money Matter School Competition before welcoming Henry Lynch from Faraday took us through this interactive Masterclass session.

The session took the delegates through exercises such as creating an action based SWOT, identifying business ambitions, challenges and priorities, creating a business plan on a page and board governance check lists.

Find out more about Faraday & Company, and the Why Does Money Matter? School Competition.
Held in beautiful Queenstown the 2022 Future Ready Advice Summit is designed to support the financial advice community over the Financial services Legislation Amendment Act and the transition licensing to the new regime that started on 15 March 2021. In addition we will be running numerous learning opportunities and sessions, including the always-popular masterclass that helps attendees understand more about the New Zealand market and provides practical tips for improving advice businesses.